Finding plants that can sustain the often extreme weather conditions of Florida proves to be a challenging task for landscaping professionals every year. While the high heat and humidity may present an issue for you, certain plants will also have a difficult time adjusting. The natural Floridian landscape, including sandy soil, salty air, and rainstorms, can also add to the issue. Plants that are heat tolerant, can tolerate nutrient poor soils, and are wind-resistant are often preferred choices. The plants that are listed below are top choices among landscaping professionals when it comes to providing value for their clients located in Northern Florida.
Azaleas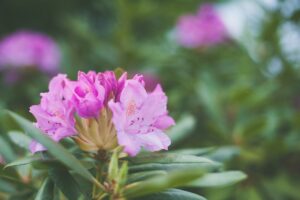 In the northern region of Florida, you will often see azaleas blooming in the spring. These richly colored plants can be adorned with pink or white blossoms. However, there are other varieties that include blue, yellow, and red blossoms. Azaleas are a great choice for landscaping professionals in the northern part of Florida, as these shrubs do not do well in the southern part of the state due to the heat.
The azalea plant is a perennial that requires full sun or partial shade. While it prefers soil with organic matter, it can also survive in nutrient-poor soil.
American Beautyberry
American beautyberry is known for its vibrant green leaves and is a native plant in Florida. Just as its name sounds, this shrub produces bunches of berries in the early fall season. While this shrub grows naturally throughout Florida, it is a key piece in many Northern Floridians landscaping projects, as it adds a pop of color.
American beautyberry is a perennial shrub that requires full sun or partial shade. It typically grows best in soil high with organic matter, but it can also survive in nutrient-poor soil.
Crape Myrtles
There are many different varieties of crape myrtles in the state of Florida. You may find very large trees towering over yards or smaller dwarf varieties that appear ornamental. These shrubs produce blooms typically in early July. They are usually pink, but may also be red or purple depending on the variety.
Crape myrtles are perennial plants and thrive best in full sun. They are also known for doing well in almost any soil type.
Firebush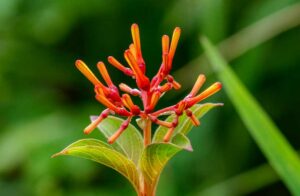 Although the firebush may die down to the roots in the winter in north Florida, it will regrow once the weather warms back up. Just as the name implies, this shrub blooms vivid red flowers that bloom all through the spring season. The firebush plants are most sought after by homeowners for landscaping not only because of their vibrancy, but also due to the flowers attracting birds and butterflies. Adding them as a selection will help home and business owners have an option for color when they are considering their landscaping needs.
The firebush grows as a shrub in north Florida and is a perennial. It requires full sun or partial shade in order to thrive. It also will grow well in soil that easily drains.
Junipers
Junipers are great choices for those doing business in the northern part of Florida because they are known for being very low maintenance plants. They also keep their leaves all year, which means yards will remain vibrant all year long. While most landscaping professionals are aware that junipers come in a green foliage variety, junipers can also have blue and even gold foliage. Some junipers will also slightly change color in the cooler months. There are over 50 different types of junipers for landscaping professionals to choose from, meaning you can provide virtually endless landscaping possibilities for those you serve.
Junipers may grow as a tree or shrub perennial plant type in northern Florida. They typically prefer full fun and do well with a slightly acidic soil.
Lantanas
Lantanas allow landscaping professionals to provide a tropical choice for their clients living in Northern Florida. These shrubs can bloom year-round and may produce orange, red, purple, or yellow blooms. Although these flowers are beautiful in and of themselves, they can also help to attract pollinators like birds and butterflies.
Lantanas are a perennial shrub and they require full sun, as well as soil that is well-draining.
Magnolias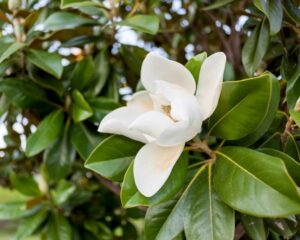 Magnolia trees are immediately recognizable as a southern plant staple when it comes to landscaping. Their deeply green large leaves are a beautiful contrast to their white flowers. While magnolias are usually available as a tree, different species allow them to also be found as a shrub.
Magnolias do well in full sun or partial shade and prefer a slightly acidic soil.
Palms and Cycads
The variety that palms provide gives them a versatility that no other plant can compare to in the Northern Florida region. Some palms are more like shrubs, while others are very tall trees. No matter the request that a client has for their landscaping needs, a type of palm could satisfy that request. While cycads look similar, they are a different type of plant and do not produce flowers.
Palms are a perennial plant and while some species require lots of sun, other species prefer some shade.
Tickseed
The tickseed is a native Florida plant and is the state wildflower. There are a total of twelve different species throughout the state of Florida. The plant is a favorite among clients, as it requires very minimal maintenance and adds a pop of color.
Some species of tickseed are perennial, while others are annual. While the tickseed prefers full sun, it can also thrive in partially shaded areas.
When in Doubt, Offer Native Plants
While finding plants for your clients that thrive in this unique climate can be difficult, it does not have to be. Native plants are often an easy sell to clients, as they are typically easier to maintain. Native plants are already adjusted to the climate, landscape, and naturally occurring pests in the area. This is especially true for residents or business owners that are new to the Northern Florida area and may not yet understand how the climate can impact plant growth.
North Florida Irrigation
North Florida Irrigation is different from a big box store; we appreciate both big and small businesses, working to provide customizable solutions with an emphasis on quality products. The team at NFI is dedicated to providing advanced innovative technology, alongside premiere customer support, to allow you to have everything you need for your company to succeed.